Designed to be one of the brightest rechargeable tune-Focusable lights in the history of the Sporting Light Industry, the ExtremeBeam TAC24 is a True Law Enforcement and Military grade Tactical Super Light.

At well over 30,000 LUX and 340 lumens, the TAC24's amazingly white-hot tune-focusable beam can shoot out an amazing 400Meters (1300 ft) and can quickly be adjusted from a pin-point narrow beam to a wider-spread beam for use in many applications from Sportsmans outdoors to SWAT Tactical weapon mounting.

This amazing light is one of the most powerful Anti-Recoil™ 6.6 ounce rechargeable Lights ever produced.

$179.95 MSRP

For Police and Military Use

with Smart Charger 110-220V, Holster, 2 Sets of  Rechargeable Batteries, Accessories kit, and Police Regulation Nylon Web Tactical Holster

The TAC24 is Rugged Dependability beyond the call of duty. It truly lives up to ExtremeBeam Tactical's reputation as "A Shining Light In The Face Of Darkness"™.

Copyright © 2012 ExtremeBeamInternational. All rights reserved.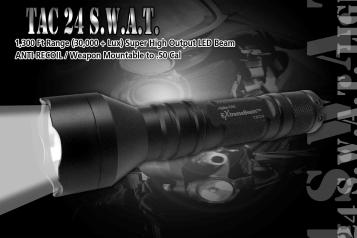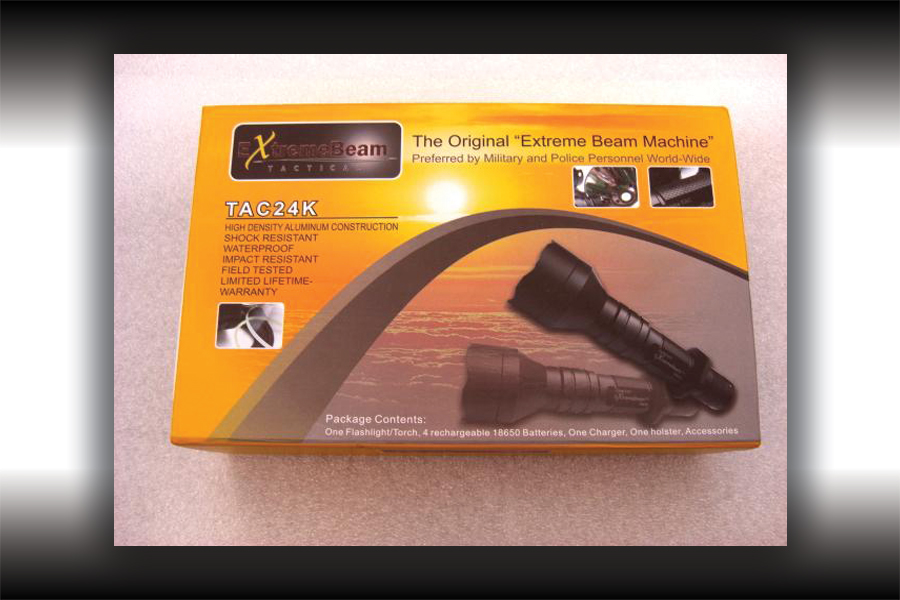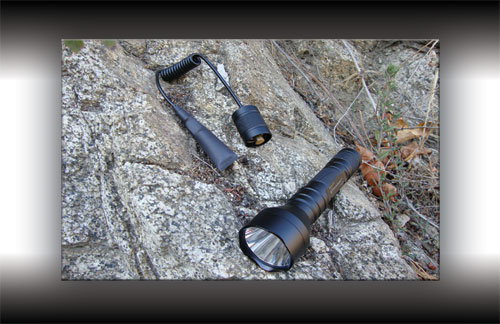 Patents Pending World-Wide

Patents Pending World-Wide

Patents Pending World-Wide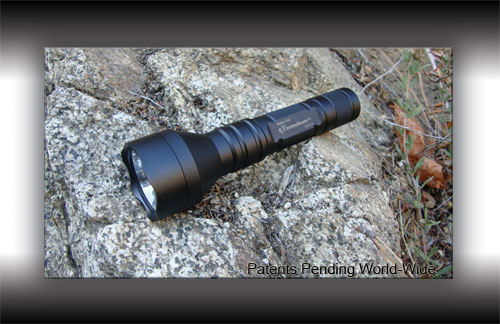 WHY Rate In LUX instead of Lumens?

Click here
to Read more and to educate yourself on why LUX is the truthful  flashlight rating
Tactical Flashlight Reviews - Are Always Welcome

Ranked Worlds Brightest in its Class

TAC24 S.W.A.T.

Weight with 1, battery:  188.4 Grams (6.6 Ounce)

Total Length: 160mm (6.25 inches)

Head Bezel Width: 45.08 mm (1.775 inches)

Main Body Width: 25.9mm (1.02 inches)

Upper Body Width: 28.58mm (1.125 inches)

Max Run-Time: 8 hours

Light Performance: 30,000LUX @ Outperforms lights up to 1400 LUMENS IN FOCUSED PERFORMANCE

Lumens Rating:340

Measured Light Projection: 400 Meters / Nearly 1300Ft

Battery Type: 2- 3.0  volt CR123 Or  1- 18650 3.6volt

Bulb Type: High-Output LED

RECHARGEABLE?: YES! -And comes with 2  Batteries (requires 1 and 1 for spare)

Switch Type: 2 Stage-Low/High

Outperforms lights up to 1400 LUMENS!


T   A   C   T   I   C   A   L      S   U   P   E   R      L   I   G   H   T   S

The World's Most Powerful Name In Sporting Lights

Anti-Recoil™ Technology at its Finest!

The TAC24's Tactical Anti-Glare Stealth hard-coating prevents light from reflecting off of its surface thereby allowing for maximum camouflaging in the night. Its Patent-Pending Anti-Recoil Pin Technology, and an array of Anti-Recoil™ remote switches make the ExtremeBeam TAC24 the perfect weapon-light for use on weapons of calibers up to .50.

Additionally, as with most ExtremeBeam lights, the 1.0 inch diameter body allows for mounting in standard 1 inch scope mounts making the TAC24 exceptionally convenient when integrating with existing equipment.

Designed with Extreme Brightness, Battery Efficiency and High Density Aluminum Durability, the TAC24 redefines the meaning of durable precision optics and efficient functionality and all of that at only 6.6 ounces.

With both Soldier and Search and Rescue teams in mind, the ExtremeBeam TAC24 provides the operator a precision advantage by producing a well refined High-Definition, High Contrast beam of extremely bright white light. It can easily light up the top of a 30 story building allowing police and rescue teams the added flexibility of visual identification over extended ranges. The color spectrum on its High-Output beam allows for high color-contrast, for the detection of colored materials hidden in surrounding brush. This High-Definition advantage coupled with its Extreme Brightness, allows for the operator to search far beyond their standing ranges, without a blinding reflection off nearby objects.

The ExtremeBeam TAC24 Light has several options. The Single Stage SWAT model, the 2 stage switch SR Model, and the 3 stage SR3 Model which comes with Hyperflash mode.

All TAC24 Models come complete with Light, Holster, Charge Kit, Extra Battery