P

R

O

D

U

C

T

S

ExtremeBeam Tactical Lights

A Shining Light in The Face Of Darkness™

Copyright © 2013 ExtremeBeamInternational. All rights reserved.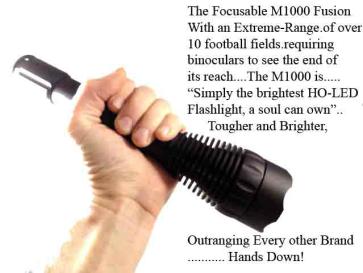 The M1000 Fusion was designed for severe combat conditions where Extreme-Industrial strength is the minimum requirement. The M1000 Fusion was created to outperform lights up to 2400 lumens do to its ability to be focused for an extended range of nearly 1,500 meters. The exceptionally heavy walled construction allows the M1000 to handle conditions which would otherwise crack and destroy the housings of lesser quality brands. ExtremeBeam designed and manufactured this light for the most extreme environmental conditions on earth.

When you buy an ExtremeBeam flashlight, you are buying a tool light designed to be the most rugged and dependable illumination tool ever built in the history of the Industrial Sport lighting industry.

Battery Type: 4 CR123 Batteries or 2 18650 rechargeables

Distance: 1,500M +_/ Nearly 1 mile range to .1 LUX (light visable from a partner)

ANSi FL1 .25 standard  400M (light visable form the user end)

Maximum Run Time: 10 Hours/ on low

Lumens: 850 ( Easily outranges lights up to 2,400 lumens)

WaterProof: IPX8

Brightness: 37,500 cd

M1000 Fusion
45,000 LUX! Focusable Beam, Single HO-LED 1lb 6 oz light...
See the New M1000 for yourself...Simply put, the M1000 beats every other brand of light in its class.. Reaches thousands of feet and does that without the other brands $600 price tag.... The Best Built Toughest and Brightest light you'll ever need....and efficient as well.. The M1000 runs on either 4 3.0V CR123 batteries (available at your local sporting goods store), or ...2 rechargeable 18650 batteries...(batteries sold separately)

    S   P   O   R   T  - T A C - I N D U S T R I A L      L   I   G   H   T   S