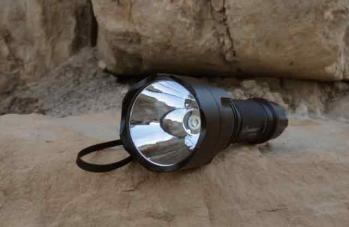 Fact or Fiction?  The Science of Light for an ExtremeBeam

By Antonio Sunbae

….."A Shinning Light in the face of darkness" is the mysterious slogan for one of the finest sporting light companies in the world today, called ExtremeBeam. I've been testing this high-end tool-light maker's lights for 3 years now and have a good idea that they really know their stuff.

The latest models released show a quality of craftsmanship that I expected from them…But what I didn't expect was them to match great engineering with affordable pricing. That was a Very pleasant surprise. I've been field-testing a few of their latest models which have caught my eye for both quality and price.

The first is the SX21R Ballistic aluminum body 300+lumen LED light. First off, this small light was brighter and tougher than any light its size that I've tested from any of the top brands. The top range nearly 1000 feet. But what makes this light unique is that you can twist the head ½ turn and spread the beam wide. And with 4mm thick wall It's about the most durable light I've has opportunity to use. The SX21R is also very efficient on batteries with a runtime on high mode of over 7 hours. The SX21R Ballistic came with a handy lanyard which is great for guys like me who in their older age tend to drop things. That being said, the SX21R isn't likely to suffer from any drop I would subject it to, as they are dropped 10 meters for trial testing by the company. Finally this light can go diving to depths of 60 feet….. Just in case you do drop it in that lake…

The second light which I found very interesting is the Aluminum and Poly made, OSR-800 headlight. It's a small head-wearable model. But the 160 lumen focusable beam is presently the brightest head wearable micro-light I've ever seen. The beam shines to 550 feet, but can be spread wide with the simple touch of a finger. It has 2 brightness modes and a bicyclists flash mode for up to 24 hours of non-stop use. You can dim it down to read a map without blinding yourself, or brighten it up to shine to the top of a mountain.  And by depressing and holding the power button while the light is on, it enters into an emergency S.O.S. flash mode which can easily gain the attention of airplanes or rescuers thousands of feet up.

The fit is comfortable and the light swivels up or down nicely with detented clicks. All this, and the best surprise was the price. It cost me 1/3 of what I have to pay for the closest competitor. It's a good light for camping, hiking, or any other time a comfortable hands-free light is needed…And at under $30, it's a light anyone can enjoy. So far… I haven't found its equal.

The last light of my review was the biggest surprise. A 1090 ft range light without the high price tag. "Reasonable pricing" is what I would normally look for among craft-made sporting lights. ExtremeBeam's new 315 lumen M4 Scirrako is an aluminum crafted masterpiece that took me by surprise. This M4 cost about $50 and outperformed every other brand light I own for under $300. It has 3 modes of operation; 1 bright, 1 dim for close range, and one flash setting for over 20 hours of runtime. And did I mention… like all of the rest of their models, it has a rechargeable kit available and sold separately if you want it. And that kit even comes with the car adapter included inside….Very nice!

After comparing the M4 Scirrako light to all of my collection of other brands latest models, I took a trip to one of the largest professional sporting good stores and compared it to other brand flashlights costing between $400 and $600. To my surprise the ExtremeBeam M4 Scirrako was much brighter than their competitor's brightest.

In my final analysis, I think ExtremeBeam finally balanced the "lighting equation" in a way that everyone will appreciate.  High-end machine-craft aluminum LED lights don't have to cost a fortune. The ExtremeBeam company also makes a wide variety of other lights not mentioned in this review but are well worth looking into.  And every light they make works with rechargeable batteries and kits which they also sell. They have lights for hunters which can be weapon-mounted; Lights small enough to carry in your pocket but can light 450 feet away; Lights which turn into 90 degree molles, great for mechanics and carpenters or firefighters for that matter;  Lights for divers without the high prices. For the common camper like myself, they have one thing most important to me…They have dependable lights worth every penny I paid for them…And that's what I was looking for in the first place. It's the perfect light for the doomsday prepper...one that works when you need it....

For more information, see http://www.ExtremeBeam.com.

100% MIL-SPEC M4 Scirrako Tune-Focusable LED, Anti-Recoil, Military-Grade

310 Lumens - 27,000 Lux Divable to 60 ft.....

$89.95

For Police and Military Use

Batteries included

The M4-Scirrako is Rugged Dependability beyond the call of duty. It truly lives up to ExtremeBeam Tactical's reputation as "A Shining Light In The Face Of Darkness"™.

Copyright © 2012 ExtremeBeamInternational. All rights reserved.

Tactical Flashlight Reviews - Are Always Welcome

Our Highest performing MIL-SPEC light in its class!

1090 Ft Range -ANTI-RECOILtm Weapon- Mountable to .50cal-

Patents Pending World-Wide

Tactical Lights & ExtremeBeam

The Ultimate Tactical Lights:

Whether you are a Hog-Hunter with a .50 cal... or a Law-Enforcement professional, The 2012 M4 Scirrako is the light for you. The MIL-SPEC M4 Scirrako, has stepped way beyond its previous years of models with its unbelievable 1090 ft range and tune-focusable LED beam. Its a Genuine Anti-Recoil, Weapon -mountable to .50 cal fUll-auto, Tactical Military and Law Enforcement Superlight. The 2012 M4 Scirrako is known by many as the world's brightest military-grade light for under $300 and it's only $49.95. This light was designed for full military service with its 24kt gold plated internal Anti-Recoil spring-pin system and has a double sealed Aluminum Hull. It may look like the 2009 ExtremeBeam original, but the 2012 M4 now sits among ExtremeBeam's Super-Light class. Why so Cheep?...Simply to get our name there....

M4 Scirrako

Weight with 2, 3.0V batteries:  186 Grams (6.56 Ounce)

Total Length: 150mm (5.9 inches)

Head Bezel Width: 44.8mm (1.75 inches)

Main Body Width: 25.48 mm (1.0 inches)

Run-Time  /set of batteries: 7/12 hours High/Low

Light Performance: 21,000/27,000 cd

Light Volume: 310 Lumens

Measured Range Light Projection: 333Meters / 1,090 Ft

Battery Type: 2, 3.0 to 4.2 voltCR123 batteries

Bulb Types available: High-Output  tune-Focused LED

Water Proof / Dive Rated: IPX-8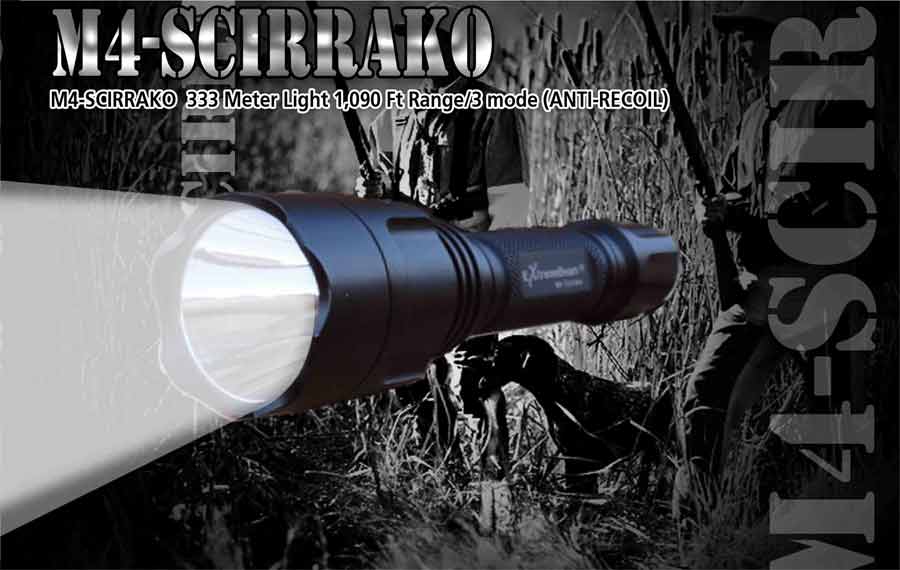 T   A   C   T   I   C   A   L         L   I   G   H   T   S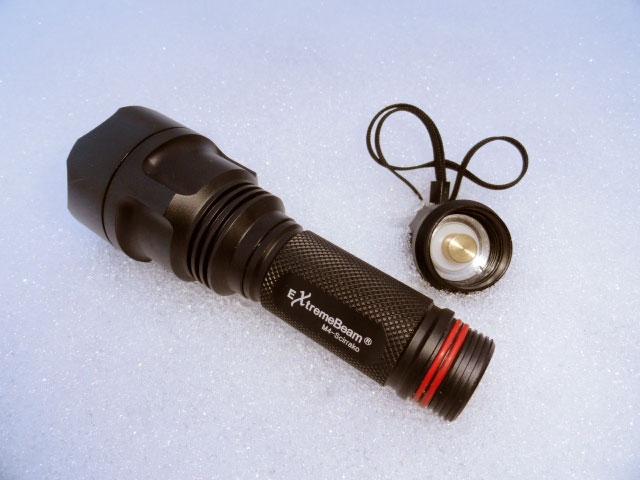 Patents Pending World-Wide

Patents Pending World-Wide